RSN4 − FROM AN IDEA TO A PRODUCT
Author: VM PROJEKT | 8th July 2021
In a majority of cases in Slovakia, project practice ends by handing a project over or by a subsequent expert visual check during the execution of a piece of construction work.
Being a project design office, VM PROJEKT is aware of the importance of customer care, and therefore, we also offer services beyond a common project practice. We render an expert assistance in drafting internal standards as well as investor supervision, expert supervision, construction consultancy services and solutions of recurrent system errors in solved buildings.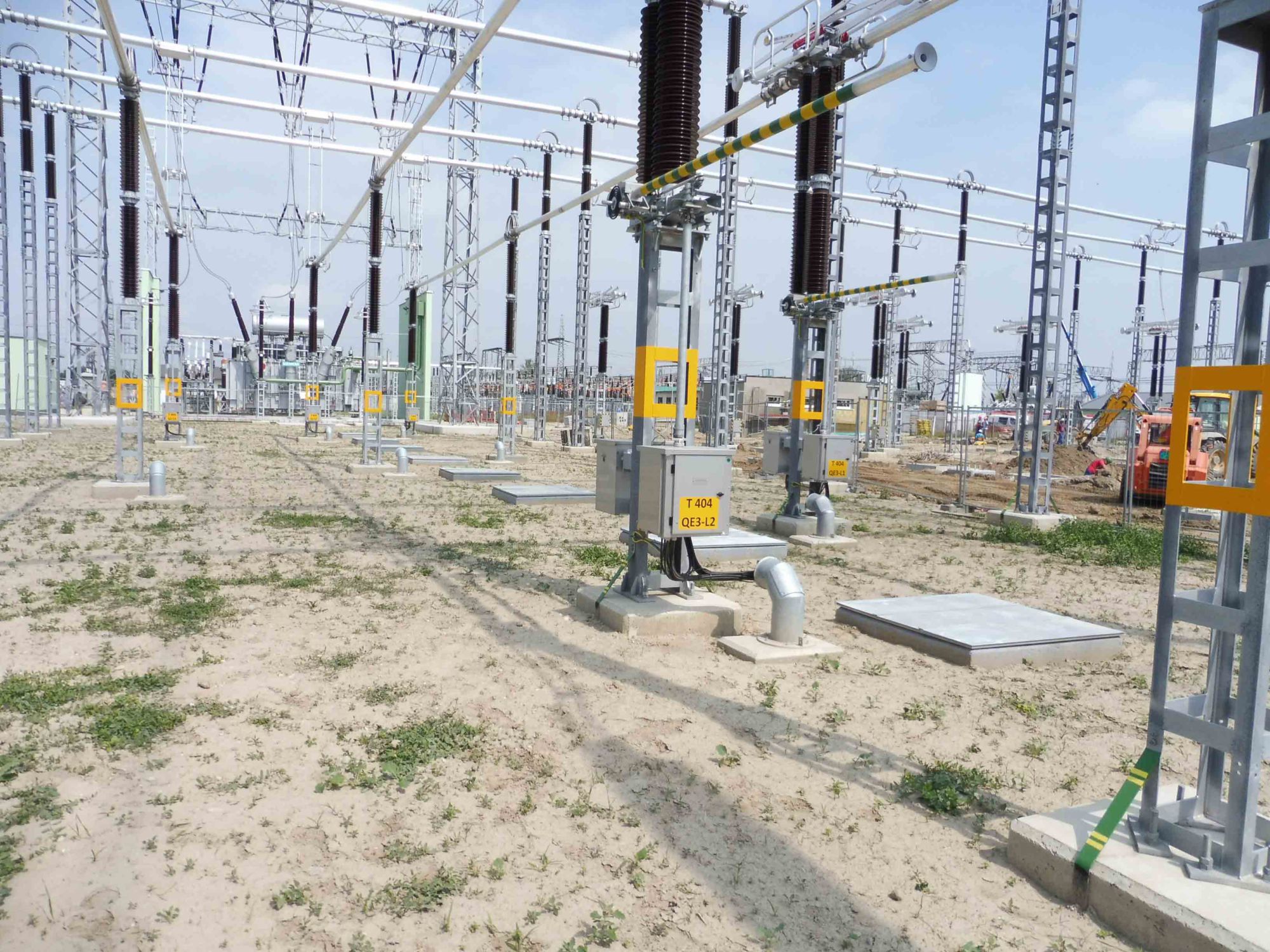 A short lifetime of cable route outlets in substation fields was one of recurrent system errors in electrical stations. Normally, the routes ended in a horizontal position just above a foundation of a given machine. Outlets were sealed using soft seals made of mineral wool and sealant. The solution was exposed to weather conditions and UV light in the horizontal position. Under the influence of external forces, the sealant cracked over the course of time and the water penetrated into the mineral wool and the whole seal disintegrated. Similarly, rodents sought a safe shelter in winter, And the soft seals did not form a barrier preventing rodents and reptiles from getting inside cable protectors, cable channels and underground objects of the ES (buildings of common operations, protection housings, secondary technologies, power plants...) where they were damaging the protection of cables and polluting the interior.
Using a cable outlet made of PVC sewerage pipes was one of solutions that were often applied in practice. The outlets were then gradually moved from the horizontal position right above the foundation up to a higher vertical position using PVC bends. The afore mentioned and later fluted water-proof seals were used to seal them. However, those pipes and fittings are not intended for use in the exterior. The UV stability and low mechanical resistance of the cable protectors have proved to be critical. After several years as a result of the material becoming tender, the cable protects cracked or ruptured also when common operational service, mowing or maintenance of the premises was being carried out. To prolong the lifetime of those cable route outlets, it is necessary to use apply a UV-stabilizing coating on the protectors, which must be regularly inspected and maintained.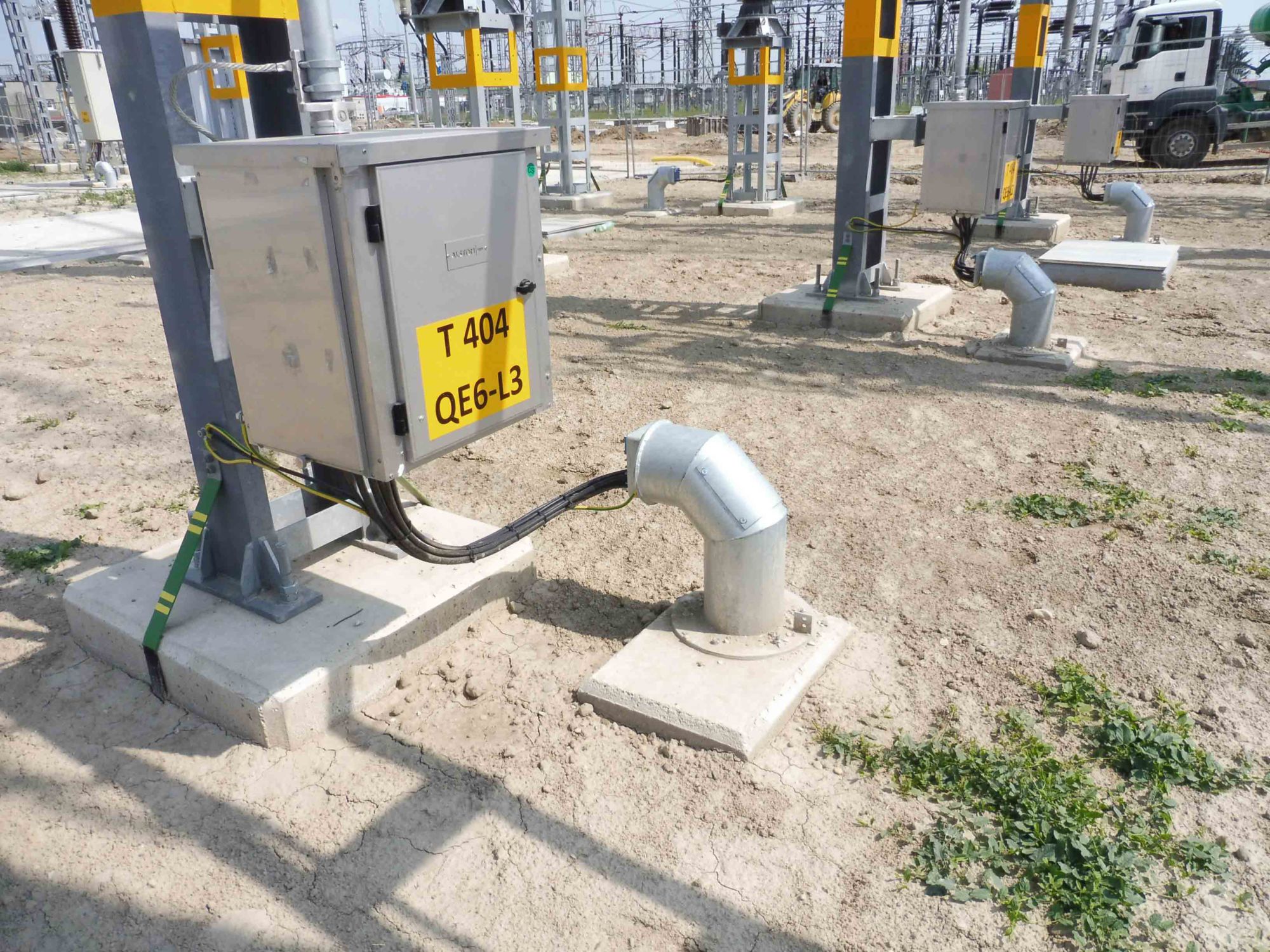 Cable route outlets made of a more durable material having a better UV-stability was designed within another natural development stage Our company have designed cable outlets from PEHD fittings that have much better mechanical properties and stability in relation to UV light. Along with their mechanical durability and UV stability, the thickness of fittings walls guarantees their sufficient stability and assumed 10-year lifetime.
In cooperation with company Roxtec CZ, s.r.o., VM PROJEKT, s.r.o. has designed a solution to the above-mentioned issue − a set of measures including cable route outlet RSN4. The outlet of cable routes consists of a steel hot-dip galvanized cable protector having with an integrated elastic waterproof partition anchored in a concrete foundation block in the vertical direction. The assumed lifetime of the solution is > 20 years.
We have been dealing with the issue since 2015 when we designed and manufactured the first prototypes of the cable outlet. Since 2018, we have supplied the outlets for constructions R400kV Horn Ždaňa, R400kV Podunajské Biskupice, R400kV Bytričany, R400kV Križovany, in cooperation with Roxtec.
From a functional perspective, outlet RSN4 consists of a steel galvanized cable protector with an integrated frame to be installed along with Roxtec sealing modules, a concrete foundation with an embedded protector with a socket joint for connecting the cable route and with EPDM seals. From the perspective of functionality, the outlet provides cables with mechanical protection and safe protection against weather conditions (rainwater, UV light, snowfall, hard rime) and safe sealing preventing rodents and reptiles from getting inside. If EMC modules are used, the outlet can provide cables with shielding against electromagnetic interference and disruption.
By now, we have developed two types of the outlet, namely RSN4 to be ended by a Roxtec frame S4x1 and RSN4-2H to be ended by a Roxtec frame S4x2. The outlets can be adjusted to a particular place of installation so that they meet the requirements of an executed work to the largest degree.